How to Take the World's Most Popular Vitamin
+ One of Australia's Favourite Supplements Gets a Recipe-Ready Makeover
We all know the world's most popular vitamin in its synthetic form: a little orange tablet, tangy to the taste. But did you know it's best to get your daily intake of Vitamin C naturally as possible to ensure effectiveness?
Wholefood nutritionist, naturopath and chef Janella Purcell today announced the launch of Lifestream Natural Vitamin C Powder, a new 100 percent natural wholefood supplement that can be added to cereal, salads, smoothies, juices and other dishes (see Janella's Immunity Boosting Nut Butter Cups recipe below).

An important antioxidant that boosts immunity, particularly when needed in the colder months and during stress, Vitamin C is also renowned for promoting healthy gums and supporting strong, healthy collagen and connective tissues.
However, not all Vitamin C supplements are equal, with most made from synthetic ingredients. Such formulations are not as bioavailable (readily absorbed by the body) as natural wholefood Vitamin C, which is enhanced by the presence of co-factors, such as bioflavonoids and antioxidants. Choosing a wholefood source promotes maximum bioavailability, as nature intended.
The ABC's of Vitamin C
We must get Vitamin C from our diet
Vitamin C is water-soluble and destroyed by heat
Most "high dose" intake is passed through the body within four hours
[1]
75 percent is passed through within 24 hours of consumption
Bigger doses are not necessarily more effective
Smaller doses, throughout the day, are better
Lifestream Natural Vitamin C Powder is formulated from Vitamin C-rich certified organic acerola berries. Importantly, the formula is very gentle on the stomach, without the acidity of some supplements.
 It is ideal to take when the immune system is compromised or as additional seasonal support.
"Vitamin C keeps our teeth and gums healthy, helps to heal cuts, improves the mucus membranes (as in when we have a cold or sinus), helps to absorb iron, prevents inflammation, improves circulation, and therefore prevents heart disease, and is wonderful for our liver," says Janella."The powdered form of Vitamin C is brilliant for adding to smoothies, raw desserts and other cold to room temperature foods — it has a pleasant, subtle taste that blends seamlessly into your favourite dishes, unlike traditional artificially produced or flavoured Vitamin C."

As a water soluble vitamin, it is important to take vitamin C each day, preferably as food rather than as a chemical.  With Lifestream Natural Vitamin C powder, each dose provides 340mg of bioavailable vitamin C,
Lifestream wholefoods also produce Lifestream Natural Vitamin C in capsule form.
How to Use Lifestream Natural Vitamin C Powder
-        Add 2/3 teaspoon to your favourite morning smoothie or juice;
-        Pop 1/3 teaspoon into kids meals or drinks;
-        Sprinkle over cereal, salads and desserts;
-        Eat straight from the spoon.
Lifestream Natural Vitamin C Powder is:
• Certified organic
• Made from an ethically grown, sustainable fruit
• Rich in natural co-factors bioflavonoids and anthocyanins
• 100 percent natural
• GMO free
• Vegetarian and vegan friendly
• Free of synthetic ascorbic acid
• Free of artificial additives
Janella's Immunity Boosting Nut Butter cups

Melt equal parts cacao powder and coconut oil in saucepan
Add honey or maple syrup to taste
Pour half the mixture into tiny cases
Pop into freezer for 10 minutes
In a small bowl, blend 1 TBS Lifestream Natural Vitamin C powder with 1/4 cup of nut butter
Spread mixture on frozen chocolate
Top with more chocolate mixture
Put back into the freezer until hard
Enjoy!
Find Lifestream Vitamin C Powder at your local pharmacy, health food store or online at www.planethealth.com.au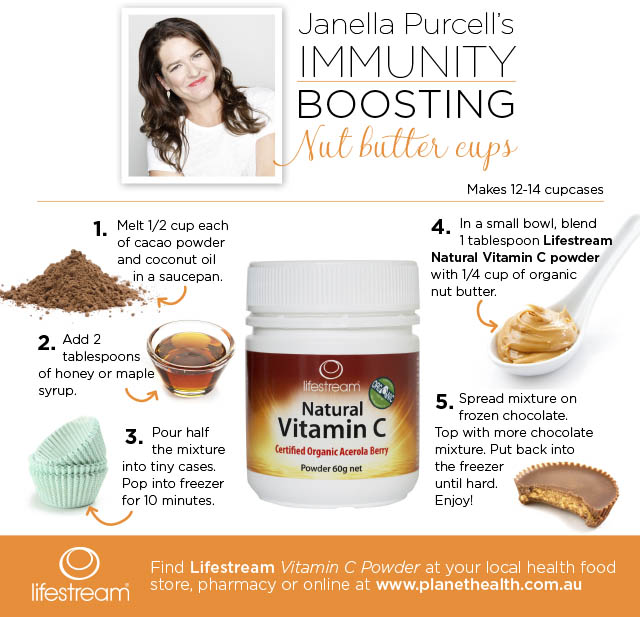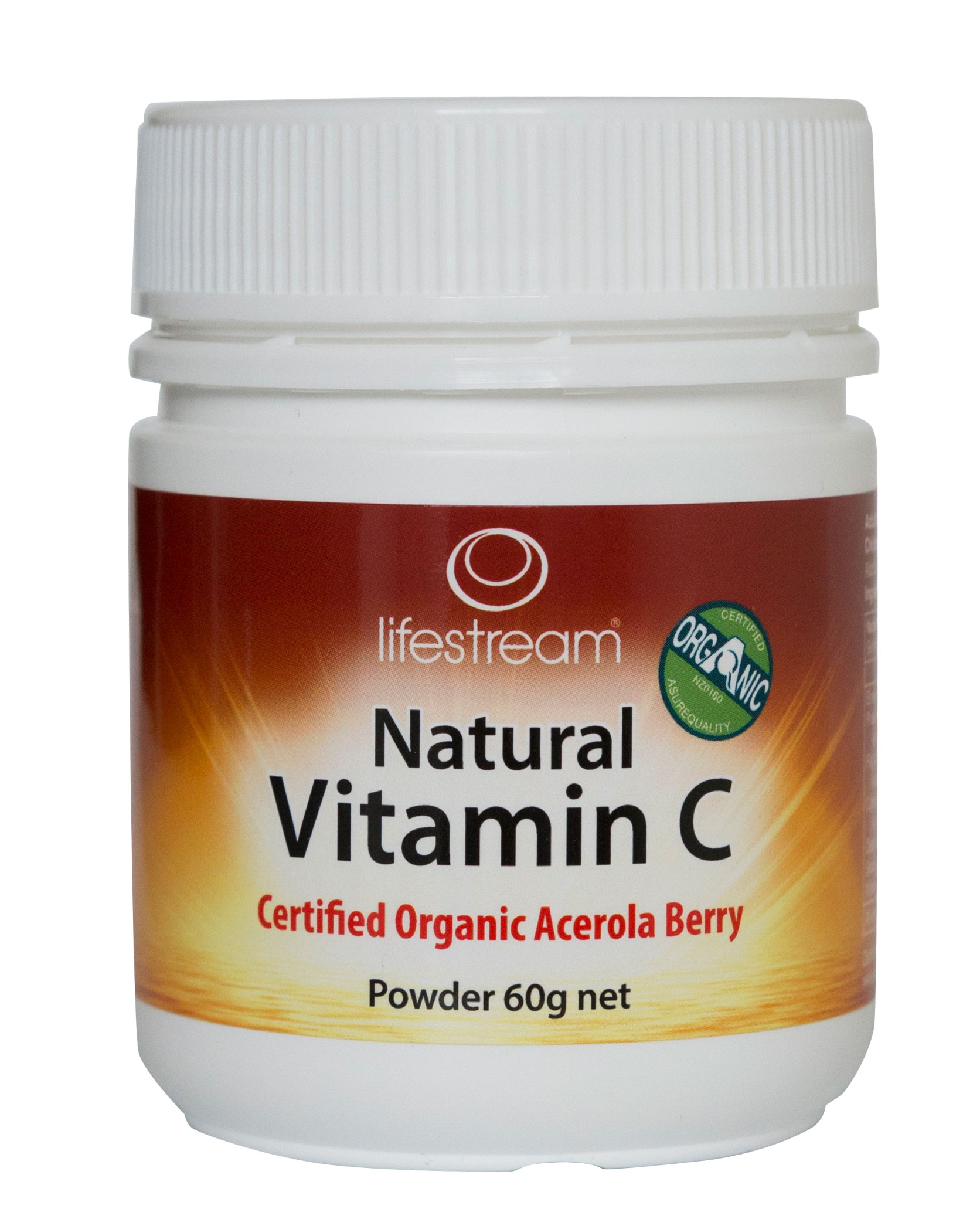 ENDS
Media Contact: Shannon Dunn, shannon@communeco.com, (03) 9028 2229
Media notes: 
• This news release is distributed on behalf of Lifestream wholefoods. If using in part, please ensure Lifestream is credited.
• High resolution images are available on request.
• Product samples may be available on request.
---
[1] https://ods.od.nih.gov/factsheets/VitaminC-HealthProfessional/